High breathable roofing underlayment
KangDa breathable membrane is a three layers membrane. (Thermal laminated by non woven PP + waterproof and vapour permeable membrane + non woven PP).
"KangDa" waterproof membrane is a kind of roof deck protection, can protect the construction structure from being eroded by wind and rain and strengthen the gas tightness and water tightness as well as boast good breathability which expels water vapour out of the construction, thus avoiding mould and condensation.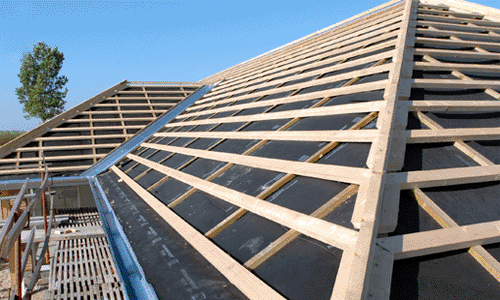 Products characteristics and function
"KangDa" breathable membrane has excellent performance at water resistance, high vapour permeability, Good performance at UV resistance and good tensile and tearing, made by 100% recycle material

Water tightness of "KangDa" breathable membrane: Thanks to the prominent waterproof performance, "KangDa" breathable membrane can wrap building tightly, protect the building from corrosion of water vapour and rain, guarantee good insulation performance and well durability of building enable the building to be more energy conservation and environmental protection.

Permeability of "KangDa" breathable membrane: "KangDa" breathable membrane paves outside of the insulation system, enable the water vapour inside the insulation system to exhaust, solve the condensation problem, protect the insulation system.

Reduce construction cost: "KangDa" breathable membrane can protect the insulation system, saving the fine concrete or the film waterproofing materials which regularly paved on top of insulation system so that to reduce the construction cost.

Application
Breathable membrane is placed under the exterior roof and its primary function is to work as a shield that protects the thermal insulation material and the building structure from the destruction of the weather

Quality control
We pay high attention to the quality of products, advanced product testing equipments, such as moisture vapor permeability testing machine, UV resistance testing machine, and tensile testing are all used to control our preeminent "KangDa" quality.

R&D
"KangDa" researching department is always keeping researching the market demand of the product, studying and developing newly demanded product according to customer's request. We like to involve in new and promising product with enthusiasm
Specification
Weight (per square meter):80gsm ,to 200gsm
Roll Width: 1m-1.5m
Roll Length: 50M or jumbo roll